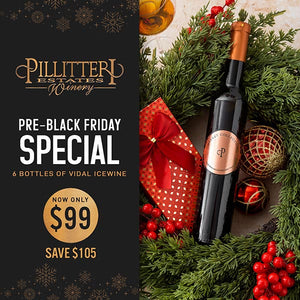 BLACK FRIDAY SPECIAL - 6 bottles of Market Collection Vidal Icewine for $99
SALE BEGINS NOVEMBER 17
VIDAL ICEWINE SPECIAL - WHITE ICEWINE
Enjoy 6 bottles of our Market Collection Vidal Icewine for only $99.
From the world's largest estate producer of Icewine with hundreds of awards for our world famous Vidal Icewines.  Harvested in the middle of winter at -8C on snow covered fields this is a dessert wine worthy of indulgence. The Market Collection Vidal Icewine is rich and aromatic with notes of honey, candied orange peel, peach, and apricot. The palate follows with intense flavours of pineapple, lychee, and honey, it's the perfect complement to chocolate and fruit-based desserts.
Vintage: 2018
Volume: 375ml x 6 bottles
Alcohol: 11%
Residual Sugar: 183g/L
Acidity: 8.5g/L
BUY TWO 6 PACKS AND RECEIVE A FREE 50ml TEAM CANADA CABERNET ICEWINE AS OUR GIFT (while supplies last).
Offer valid while supplies last!
FREE SHIPPING for wine club members.
 This offer does NOT include gift box.