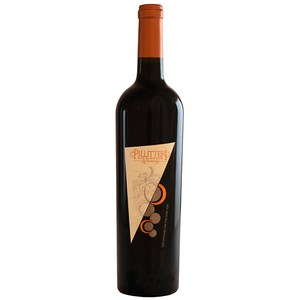 2017 Racina Twice Pressed
The 2017 vintage began with a mild January, with precipitation in the region above normal- rain, not snow was a factor for the beginning of the year. February was warm, and above average temperatures, including record- setting days were common. Spring and summer also saw warm temperatures accompanying high volume precipitation.
Southeastern Ontario saw heavy rainfall toward the tail-end of July and beginning of  August, however, sunny day interruptions allowed grapes to keep maturing and keep fungal bacterial infections at bay. September saw steady warm and dry conditions, which continues throughout October and November, leading to ideal conditions during regular harvest.

An intense, flavourful, red wine with Corvina as the dominant grape. A never before tried blend that shows well. The initial aroma hits your nose with robust assertiveness. Cherry, Raspberry, mint, leather and stewed fruits are the dominant character. While subtle nuances of black and white pepper dance around the edges. The palate mimic's the nose with an added weight from the repassing of the juice over the 2020 Cabernet Franc skins. The repassing technique is a traditional process in Italy, we have adopted to bolster the intensity and colour of this wine. The skins were then pressed again to extract that remaining character that was added to the blend. The Appassimento Cabernet Franc blended in shows most on the finish, adding length and weight. The result is a full-bodied wine with a lengthy finish and heavy tannins that should smooth out with age. A wine suited to mellow over time, an experiment that passed the test.
Technical Information:
Appellation: VQA Niagara-on-the-Lake
Blend: 41% Corvina Appassimento, 38% Merlot, 21% Cabernet Franc Appassimento
Alcohol: 14.9% ABV
Oak: 100% French Oak, aged for 24 months
Residual Sugar: 3 g/L