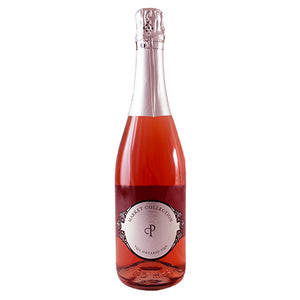 2021 Market Collection Sparkling Rosé
A sparkling wine for all occasions, pretty in the flute with a beautiful flow of bubbles streaming through the salmon coloured wine and prettier still on the nose.
Fermented in the Metodo Italiano (Charmat method). Red fruits such as cherry, strawberry and tart fresh raspberry shine initially with a fresh peach, melon and delicate rose soon following. Replays of the initial red fruits are found first on the taste, with a focus on strawberry, but a wonderful cranberry and peach middle carries the wine into its lingering red apple finish. The sweetness of the wine showcases the fruit, and when coupled with the pop of acidity and sparkle of the mousse you have a wine that is matched in balance and enjoyability.
Cocktail hour snacks, baked brie, and charcuterie boards with a wide array of meats and cheeses for you to explore with this wine. Alternatively comfort foods for movie night such as popcorn or a bag of chips pair well to create an ideal night in.
Technical Information:
Appellation: VQA Ontario
Blend: 80% Cabernet Franc, 20% Cabernet Franc Select Late Harvest
Method: Charmat Method, or Metodo Italiano
Alcohol: 13.0% ABV
Residual sugar: 20.4g/L