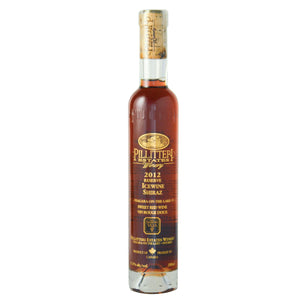 2014 Reserve Shiraz Icewine 200ml
Shiraz makes some of our most rare and decadent Icewines. The 2014 vintage has an enticing ruby colour and draws you in with a nose full of sweet cherry, dates, preserved redcurrant, honey and roasted pepper. The palate comes to life with flavours like the nose but with additional tones of raisin, caramel, hazelnut, fruit cake and milk chocolate which add wonderful complexity to this Icewine as they fade slowly over the long, smooth finish. 
This wine is perfect served by itself as an aperitif or digestif. It can also be enjoyed with strong cheeses or desserts less sweet than the Icewine that incorporate chocolate and berries, such as milk chocolate covered pretzels, or dark chocolate mousse with raspberry coulis. 
Technical Information:
Appellation: VQA Niagara-on-the-Lake
Blend: 100% Shiraz (Syrah)
Harvest Date: January, 2015
Brix at Harvest: 40.3◦Brix
Alcohol: 10.5% ABV
Residual Sugar: 213 g/L
Cellar capacity: Now till 2030+