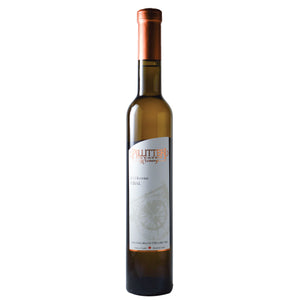 2016 Carretto Vidal Icewine 200ml
The 2016 Vintage was extremely hot with little rainfall and lots of sunshine. To protect the grapes we left foliage on the vines providing extensive canopy. The soil was able to hold moisture through the season to ensure the vines remained healthy in the heat, producing a crop balanced in sugars, water and acidity- a known Niagara trait.
A stellar Icewine which encompasses fantastic aromas of floral notes, honey, candied orange peel, peach and apricot. You'll find intense flavours of pineapple, lychee, and honey on your palate, as well as a voluptuous texture, balancing acidity and long finish.
This wine is perfect as an aperitif or digestif. It also can be enjoyed with strong cheeses (aged cheddar, deep-veined blue cheese, etc.) or desserts less sweet than the Icewine (focus on citrus flavours).
Technical information:
Appellation: VQA Niagara-on-the-Lake
Blend: 100% Vidal
Harvest Date: January 3, 2017
Brix at Harvest: 38◦ Brix
Alcohol: 11.0% ABV
Residual Sugar: 225 g/L