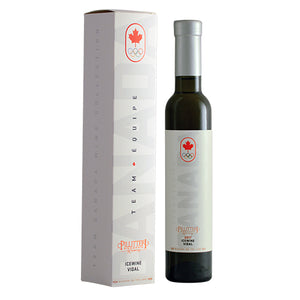 2017 Team Canada Vidal Icewine 200ml
There's a reason Icewine is known as "liquid gold", this stunning example is made specially to support the Canadian Olympic Team and helps the athletes and their families in achieving gold.
The wine also pours a colour to match and displays aromas of fresh pineapple, apricot, lychee, honey and candied lemon with a slightly floral feel. The palate is lusciously sweet yet very smooth, delivering a burst of tropical fruit flavours supported by just enough acidity to balance the wine. A perfect choice to celebrate the success of Canadian athletes as they go for the gold around the world.
With every bottle, a $1 donation will be directly contributed to the Canadian Olympic Foundation and its efforts to support Canadian athletes.
Technical Information
Appellation:  VQA Niagara-on-the-Lake

Blend: 100% Vidal
Brix at Harvest:  39.5◦ C Brix
Alcohol: 11% ABV
Residual Sugar:  210g/L
Cellar capacity: Now till 2030+