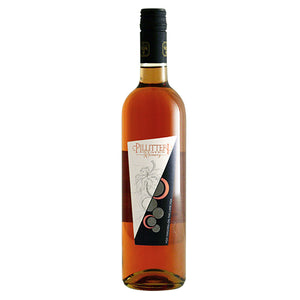 2021 Racina Pinot Squared Rosé
Racina means grapes in the Sicilian dialect of Racalmuto, the hometown of Gary and Lena Pillitteri. To celebrate this there is a giant grape sculpture hanging in the wine tour centre. This wine celebrates the story of the Racina.
2021 proved to be an ideal vintage to produce world class rose in the Niagara Peninsula. This beautiful light pink wine is a very aromatic blend of Pinot Grigio and Pinot Noir that blurs the line between a white and red wine. On the captivating nose there are both red fruit descriptors like pomegranate, cranberry and dried strawberry along with orchard fruits like bosc pear and red delicious apple. The palate is dry and presents a very soft texture with just the slightest touch of residual sugar to balance the wine. Flavors are similar to the nose along with chamomile, blood orange, toast and honey which continue over the wines sustained and refreshing finish.
This rosé pair ideally with warm weather and the outdoors but since it's dry, it also pairs well with a wide variety of foods. Everything from light salads and rice dishes to heartier pasta dishes, shellfish and white meats like chicken or turkey would be a perfect compliment for this wine.
Technical Information:
Appellation:  VQA Niagara-on-the-Lake
Blend: 85% Pinot Grigio, 15% Pinot Noir
Alcohol: 12.5% ABV
Residual Sugar: 8 g/L