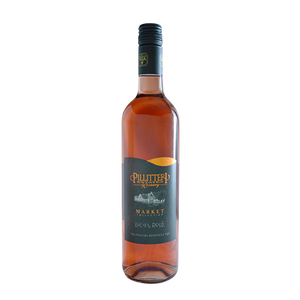 2021 Market Collection Lucia's Rosé
The 2021 Lucia's Rosé is a great example of premium cool climate rosé. It pours a beautiful salmon pink colour and displays vibrant aromas of white peach, sweet watermelon, white pepper, lilac and strawberry jam. The palate is well balanced as there is just enough sweetness to balance the acidity without feeling like a sweet wine. Flavours similar to the nose reveal themselves with more of an impression of honey and blood orange leading to a clean finish. This very refreshing and easy drinking wine is the perfect choice for on the patio or by the pool on a hot day, but also complex enough to pair well with food. 
This rosé pair ideally with warm weather and sitting out on the patio but also pairs well with a variety of foods. Due to a slightly sweeter palate profile, look to foods with a touch of sweetness or those higher in spice. Spicy curry dishes like Tandoori chicken or lamb curry with tomatoes, garlic and garam masala will showcase the subtleties of this wine. Simple foods like light salads, seafood dishes or beef tacos would also make for a perfect match. 
Technical Information:
Appellation: VQA Niagara Peninsula
Blend: 90% Cabernet Franc, 10% Cabernet Franc Select Late Harvest
Alcohol: 12.5% ABV
Residual Sugar: 22 g/L