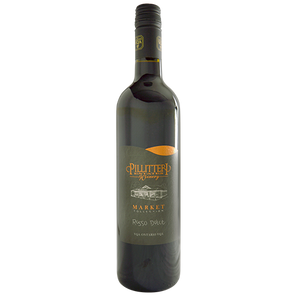 2021 Market Collection Rosso Dolce
Rosso Dolce is an uncomplicated blend that presents balanced organics, while still delivering a unique twist on typical red wine. Aromatics showcase black currant, blackberry jam, blueberry, dark cherry and dark grape, with undertones of hot pepper jelly and subtle peppercorn.
The palate does well to mirror the nose, but with dominant wild blueberry, raspberry jam, ripened plum and grape. Residual sugar sits at the forefront of the palate, while acid is highlighted well on the mid-palate, creating a balanced mouthfeel. Medium length means chilling this wine will only do it justice, by dampening sweetness and highlighting fresh acid.
This wine also presents an opportunity to be paired with entrees as well as desserts.  Entrees like spicy lentil wraps with tahini, or a spicy tuna bowl will work wonders. Funky options like sweet and savory baked chicken with pineapple and tarragon will make this wine appear bolder and more textured. Soy-Glazed shitake mushrooms or miso clam chowder are also great options to balance palate-feel.

Technical Information:
Appellation: VQA Ontario
Blend: 34% Cabernet Franc, 28% Baco Noir, 15% Merlot, 12% Pinot Noir, 11% Cabernet Sauvignon
Alcohol: 12.5%
Sugar: 35.3 g/L