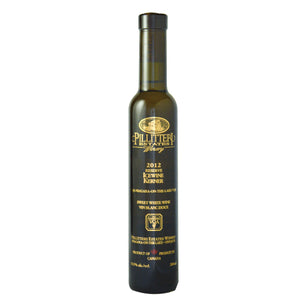 2013 Reserve Kerner Icewine 200ml
In stark contrast to the banner 2012 vintage, the 2013 vintage was cooler, shorter and had a bit more rainfall. Cooler vintages are perfect for the aromatic varietals like Riesling and Gewurztraminer, and are well suited for late harvest and Icewine due to the concentration of flavours and acidity.  The cooler days contribute to keeping acidity in the wine high and increasing the wine's longevity.
Our Kerner grapes were harvested at around -9°C to give us maximum concentration. This wine's high natural acidity keeps it balanced and pleasant to drink. The nose has great intensity and freshness with aromas of pear drop, honey, candied lemon, pineapple and elderflower along with an underlying minerality. The palate is similar to the nose and very soft, providing a smooth texture that perfectly frames the purity of the ripe flavours and leads into a long finish. 
This wine is perfect as an aperitif or digestif. It also can be enjoyed with strong cheeses (aged cheddar, deep-veined blue cheese, etc.) or desserts less sweet than the Icewine like peach crumble or apple pie.
Technical Information:
Appellation:  VQA Niagara-on-the-Lake
Blend: 100% Kerner (Riesling x Trollinger)  
Harvest Date: January 14, 2014
Brix at Harvest: 35.7◦Brix
Alcohol: 11.5% ABV
Residual Sugar: 162 g/L
Cellar capacity: Now till 2030+