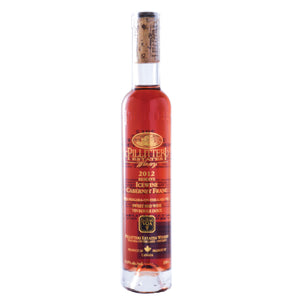 2017 Family Reserve Cabernet Franc Icewine 200ml
For an Icewine to reach Family Reserve Icewine it must meet strict winegrowing and winemaking standards: residual sugar, acidity and alcohol must be balanced in perfect harmony.
The 2017 Family Reserve Cabernet Franc Icewine is a classic take on this rare Niagara specialty. With great colour intensity in the glass, it opens up with a plethora of confected red fruit characteristics like strawberry and raspberry jam along with maraschino cherry and a backdrop of baking spice. The palate shares similar descriptors with the nose but with an emphasis on rhubarb, caramelized sugar, milk chocolate and a savoury quality. Despite being a lusciously sweet wine, there is ample acidity to keep it fresh and to reduce the perception of sweetness which ultimately leads to a very flavourful desert wine with a smooth mouthfeel.  
Cabernet Franc Icewine pairs well with dark chocolate, red berry driven desserts and strong cheeses.
Technical Information
Appellation: VQA Niagara-on-the-Lake
Blend: 100% Cabernet Franc
Harvest Date: Jan 4, 2018
Brix at Harvest: 39.1◦Brix
Alcohol: 11.0% ABV
Residual Sugar: 218g/L
Cellar capacity: Now Till 2030+