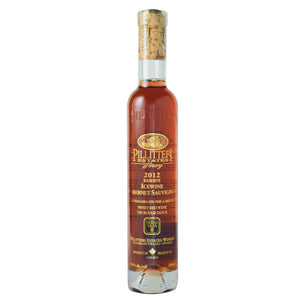 2017 Family Reserve Cabernet Sauvignon Icewine 200ml
For an Icewine to reach Family Reserve Icewine it must meet strict winegrowing and winemaking standards: residual sugar, acidity and alcohol must be balanced in perfect harmony.
Cabernet Sauvignon consistently produces some of our most luscious and well-balanced Icewines and this one is no exception. It has vibrant aromatics of cooked red fruits like strawberry, raspberry and red plum with an underlying sense of sultana raisin, fruit punch, ginger snap and white pepper. The palate is very soft with just enough acidity to preserve freshness and just enough sweetness to achieve an exceptional silky texture. This balanced mouthfeel is also accompanied by an explosion of cooked red fruits which are like those which dominate the nose, along with honey and red currant. As the wine moves into it's long finish, the sense of fresh fruit moves into more brown sugar and dried fruits which will only become more prominent as the wine ages in the bottle.  
This wine pairs very well with fruit based desserts like strawberry rhubarb pie or something as simple as dark chocolate to balance out the wine's luscious sweetness.
Technical Information:
Appellation: VQA Niagara-on-the-Lake
Blend: 100% Cabernet Sauvignon  
Harvest Date: January 4, 2018
Brix at Harvest:  37 ◦Brix         
Alcohol: 11.5% ABV
Residual Sugar: 215 g/L
Cellar capacity: Now till 2030+